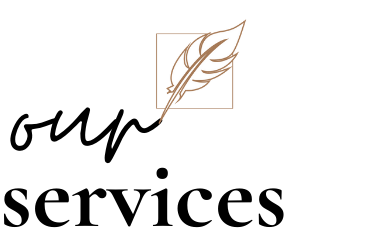 Quality vs. Quantity: we follow a proven philosophy that if you deliver quality direct mail to your prospects, you'll guarantee yourself the best open and read rate, instead of spending thousands of dollars that end up in the trash.
Sending a quality hand-written letter ensures: 
 A win against your competitors while delivering a greater number of qualified inquiries
Simultaneously capture your leads at a lower cost per lead while exhausting less data
Better return on your investment
There's a product offering for every goal and budget. You don't need to be pigeon-holed into one either! You can mix and match for your first, second, and third attempts to inspire action within your leads and get new opportunities and/or clients.
GOLD
Our "Gold" product offers:
Machine-printed inserts

Human hand-written envelopes

Hand-applied First Class Forever® Stamp
Upgrade to GOLD+: colored envelopes with coordinating ink & seasonal stamps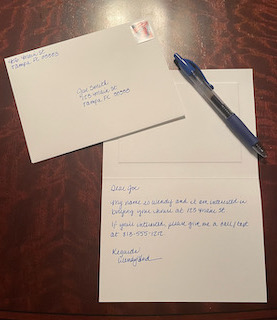 PLATINUM
Our "Platinum" product offers:
Human hand-written inserts

Human hand-written envelopes 
Hand-applied First-Class Forever® Stamp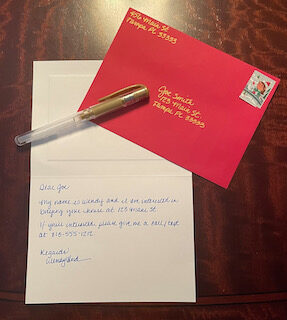 Diamond
Our "Diamond" product offers:
Human hand-written inserts
Human hand-written colored envelopes with coordinated ink 

(*Seasonally Based)

Hand-applied First-Class Forever® Stamp 

(*Seasonally Based)
It is very rare to find a person who takes such great care and pays such close attention to detail as Jeff from Marketing by Hand. It is the one area of my business that never have to worry about. Jeff is ultra professional, never disappoints and always under promises and over delivers. His handwritten envelopes have really made my business stand apart from the rest. I have used his services for my real estate business and consulting business so I can also speak to how great he is at customizing his services to fit your needs. Marketing by Hand is easy to work with, a great value, highly skilled and definitely get letters opened!
Jeff at Marketing by Hand made it easy to create a new marketing campaign with a personal touch. I often get remarks from prospects that we are the first company to contact them, which gives our company a huge advantage. Jeff has exceeded my expectations in customer service and consistently delivers an outstanding product. I strongly recommend Jeff's services.
Marketing by hand has been very helpful in guiding me in developing a new aspect of my real estate business. They have delivered on their promises and guided me in expanding my business.
Working with Jeff and Marketing by Hand has been a great experience. It's rare today to deal with a business that delivers exactly what they say they will when they say they will. My seller responses have gone up dramatically since switching to handwritten letters!
Don't fit the mold?
If you conceive it, we can create it!